»

FLIR T640 Highest Quality Infrared Camera 55904-6922 (formerly 55902-2502)
FLIR T640 Highest Quality Infrared Camera 55904-6922 (formerly 55902-2502)
The T640 delivers the highest quality 640 x 480 thermal images and offer amazing features at a price unimagined 1-year ago!
$27,995.00
Free Shipping!
Monroe Infrared is offering our own New Year's Special savings on the FLIR T420, T420bx, T440, T460, T600, T620, T640 and T660 cameras. Call for details
Built for the Serious Infrared Thermal Imaging Professional, Reliability Manager and Utilities Engineer
Infrared Designed for Professionals
The FLIR T640 is a professional thermal imager, intended for heavy use in industrial environments by professionals. As such, the camera includes multiple unique features which serve to aid users in these applications. The T640 features a rotating optics block, capable of 120-degrees of up and down movement to make imaging easier in tight or awkward areas. The camera also features FLIR's unique Auto Orientation function which keeps images on the 4.3 inch LCD capacitive touchscreen upright no matter the camera's orientation. The touchscreen as well as other features like auto and manual focus controls are easily within reach when the camera is handheld. The T640 also includes a viewfinder for easy imaging in bright or outdoor areas.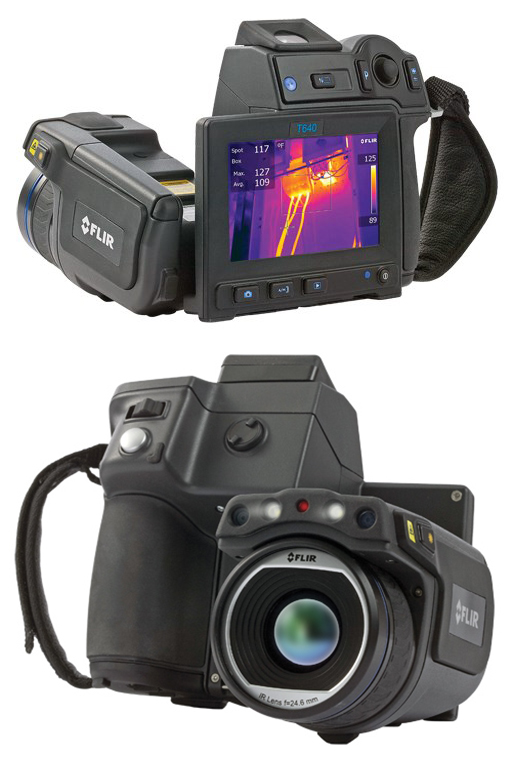 Industrial Infrared Imaging
The FLIR T640 is a powerful industrial thermal camera which gives users the power to find and report equipment problems quickly and easily. The camera is designed with plant inspectors and industrial maintenance professionals in mind. Numerous features like the built-in viewfinder, UltraMax super-resolution, 4.3-inch capacitive touchscreen, and MSX thermal fusion make the T640 a powerful, intuitive tool for these applications. The T640 thermal imager features a broad temperature range of -40°F to 3,632°F (-40°C to 2,000°C), the highest available in the FLIR T-Series. Thermal sensitivity is 30mK, allowing users to detect even minute temperature differences across the range. Infrared resolution is 640×480 or 307,200 total pixels, making the T640 one of the highest resolution IR cameras available from FLIR. This camera package includes a 15-degree telephoto lens for thermal imaging at longer distances. Other packages including 25 and 45-degree lenses are also available from Monroe Infrared.
T640 Specifications
6 measurement mode presets including 10 moveable spots
Live Line Profile measurement included
5-megapixel digital camera
Manual, automatic, and continuous autofocus modes
8 lens options: 25°; 7° & 15° Tele; 45° & 80° Wide; 100 nm, 50 nm, 25 nm close-up
LED light & laser pointer built-in
FLIR Tools Mobile App
FLIR Tools Mobile is a free wireless-enabled mobile app for Apple, Android, and Kindle devices. This app expands the capabilities of FLIR infrared imaging cameras by allowing users to stream live video directly from the T640 to their mobile devices, as well as import images directly from the camera, capture images remotely, and adjust images in-app. With T-Series cameras including the T640, FLIR Tools Mobile widens camera capabilities even further by allowing for remote control of certain camera functions like focus, level, span, and more. This is a perfect solution for imaging in dangerous environments. After images are captured, imported, and adjusted, FLIR Tools Mobile makes it simple and easy to create professional PDF reports and send them out via email, Dropbox, Box, and more.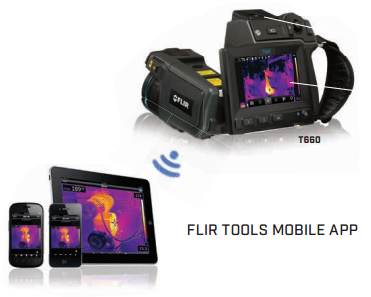 FLIR MeterLink
FLIR MeterLink is an innovative way for users to expand the measurement capabilities of their FLIR thermal imaging cameras. By using a Bluetooth connection, the T640 infrared imager is able to communicate with certain FLIR and Extech moisture and clamp meters. The readings from these meters are embedded in any thermal images captured while MeterLink is active. This can make reporting much more streamlined because thermal events in IR images can be quantified without extra hassle. This makes the repair process faster overall.
Digital Zoom & Continuous Auto Focus The: T640 thermal imager features continuous digital zoom in 2x, 4x, and 8x magnification. The T640 also features continuous auto focus, a feature only found on the T640 and T660.
Lens Options: This version of the FLIR T640 includes a 15° telephoto lens for long range imaging. Seven other options are available including 7° & 15° Telephoto, 25°, 80° Wide angle and 100 nm, 50 nm and 25 nm close-up lenses. Monroe Infrared offers FLIR T640 camera packages with 15, 25, and 45-degree lenses.
Laser & LED Light: The T640 features an integrated laser pointer to help users aim the camera more accurately when capturing images. An LED flashlight is also included for imaging in dark areas. This LED also doubles as a flash for the integrated 5-megapixel digital camera.
FLIR MSX Thermal Image Blending
MSX stands for Multi-Spectral Dynamic Imaging. This technology is a form of thermal fusion which allows users to blend IR images with corresponding visible light images in order to make details clearer and add depth to thermal images. MSX works by capturing an identical visible light image along with infrared images when active. The high-contrast highlights and details in the visible light images are extracted and embedded in the corresponding IR images in-camera, resulting in thermal images with incredible detail. FLIR also gives users the options to adjust the blend percentage in MSX images, meaning an image could be mostly thermal with little visible detail, or vice versa, depending on the application. The images below are actual examples of FLIR thermal images with and without MSX.
FLIR UltraMax Super-Resolution
FLIR UltraMax is a revolutionary super-resolution technology which effectively increases IR image resolution by up to 4 times while reducing noise by 50%. This is possible via a process totally unique to FLIR. When active, UltraMax actually captures 16 thermal images per second and combines them together in-camera in order to create an image with much more pixels on target. This is only possible when the T640 thermal imager is handheld because each thermal image captured by UltraMax must be slightly offset from the others or combining them will not work. This massive increase in resolution gives T640 thermal images 1,280×960 pixel resolution, a resolution greater than 720p. This pixel increase also gives the T640 greater temperature accuracy because measurement spot size is decreased. Take a look at the images below for an illustration of how UltraMax works.

FLIR T640 55902-2502 Infrared Camera Specifications:
– Image Resolution of 640 x 480 (307,200 Pixels)
– NETD .035°C @ +30°C
– FOV 25° x 19° Optional 15° & 7° telephoto, 45° and 80° wide angle, 25?m, 50?m and 100?m close up lenses
– Temp Range -40° to 3,632°F
– NEW! Continuous Auto Focus keeps image share automatically
– IR/Visual/Scalable Picture-in-Picture Fusion Display
– 5 MP Video Camera w/Integrated Visual Lamp
– NEW! Built-In GPS automatically adds location data to images to include in reports
– 4.3 inch Color Bright Touch Screen with NEW Sketch on IR/Visual functionality
– 8x Continuous Digital Zoom
– FLIR Tools Mobile app for Apple® & Android
– HMDI/DVI Video Output
– 30Hz Frame Rate
– Built in laser pointer plus Joystick Control
– MeterLink Connectivity with Extech Moisture Meter and Voltmeters
– Bluetooth
– ThermaTrak
– Voice Annotation (60 Sec) and Text & Sketch, Panorama, Periodic image Storage
– sketch on IR/Visual Images
– NEW! MSX Thermal Image Enhancement
– Analysis Professional (Multi-Moveable Spots & Box Areas, Delta T Difference Function)
– Wi-Fi to iPhone/iPad®
Warranty: 10-Year Detector Protection, 5-year Battery and 2-Year Parts & Labor
FLIR T640 System Includes:
FLIT T640 55902-2502 Camera, Lens w/Lens Cap, (2) Batteries, AC Power Supply Battery Charger, USB-mini cable, SD Card w/Adapters, Sun Shield, Stylus Pen & Headset, Hand Strap, Flir Tolls Software, Hard Shell Carrying Case and User Manual
OclezpXYP_E:

T Series PM Imager

AlUcf_KhBRU:

MSX Enhanced Thermal Images