»

Flir T420bx Professional Imager 62103-1501 (formerly 62101-0501)
Flir T420bx Professional Imager 62103-1501 (formerly 62101-0501)
Flir T420bx High-Performance Building Thermal Imager - The FLIR T400-Series combine excellent ergonomics with high image quality of 320 x 240 pixels. The FLIR T400-Series come with a tiltable optical unit which makes it possible to measure and take images of objects in all angles, still in a comfortable working position.
$8,925.00
Free Shipping!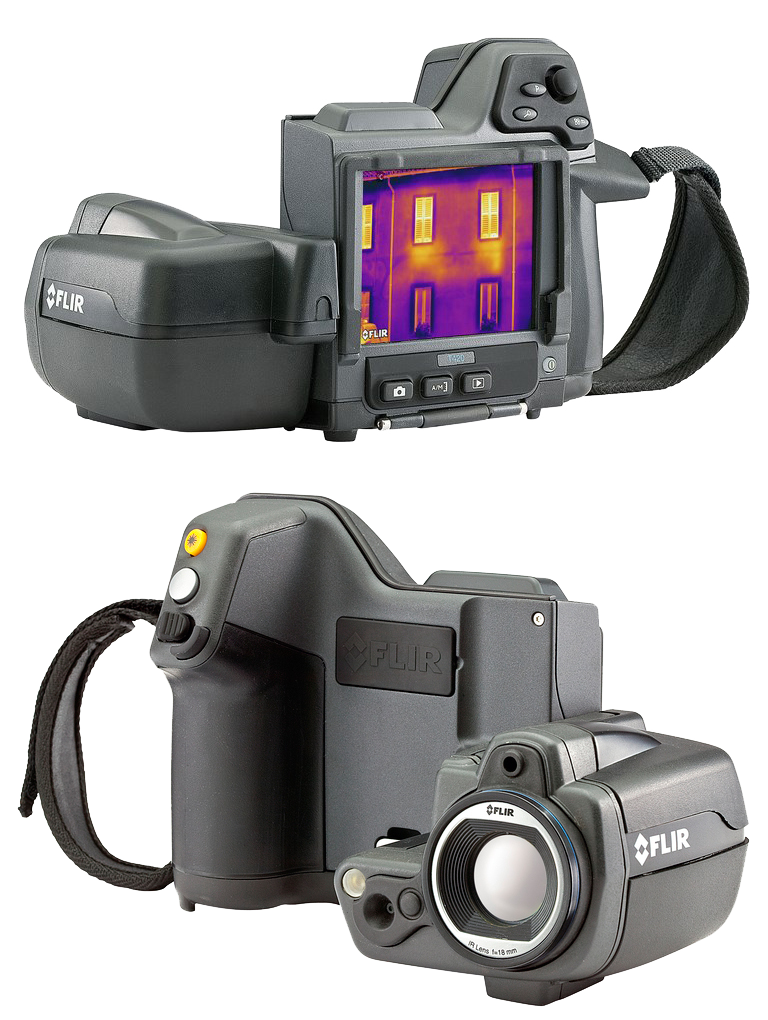 Versatile Building Diagnostics
The FLIR T420bx is a versatile thermal camera designed specifically for building inspectors performing short and long range, high-demand IR inspections. To optimize the T420bx for inspection applications, FLIR has incorporated unique "alarm alerts" into the camera to quickly alert you to detected moisture intrusion and insulations issues. The T420bx features a temperature measurement range of -4°F to 662°F (-20°C to 350°C), providing plenty of thermal measuring capability for most building inspection applications. FLIR technologies like UltraMax and MSX ensure that you get clear, detailed thermal images with the T420bx. Integrated reporting software called Instant Report, as well as the FLIR Tools Mobile app, make it easy to quickly create and send professional reports, saving you time on the job.
T420bx Specifications
320 x 240 pixel resolution
45mK (<0.045°C at 30°C) thermal sensitivity
1 Humidity, 1 Dew Point, and Insulation Alarm Alerts
Measuring modes: 5 moveable spots, 5 box areas, isotherm, auto hot/cold spot, Delta T
25-degree stock lens with 6 additional options
Integrated LED light & laser pointer
4x Continuous Digital Zoom
Integrated 3.5″ LCD touch screen
FLIR T420bx Imaging Technologies
FLIR UltraMax
UltraMax is an innovative, proprietary technology from FLIR which effectively increases thermal camera resolution by four times and reduces image noise by 50%. For the T420bx, this means that your thermal images can have a maximum resolution of 640 x 480 pixels. This increase in maximum resolution allows you to zoom in on smaller targets and measure them more accurately than ever because it decreases measurement spot size. This technology works by capturing 16 thermal images per second. Each image is slightly offset from the others due to natural, hand-held movement. These images are then combined in-camera to create a thermal image with more pixels and smaller measurement spot size, effectively increasing your measurement accuracy. The images below illustrate how this technology works.
FLIR MSX Thermal Fusion
MSX stands for Multi-Spectral Dynamic Imaging. This technology is FLIR's unique version of thermal fusion. With MSX enabled, thermal images provide much greater detail. A visible light reference image is really no longer needed with MSX because it makes numbers, labels, signage, and structural features clearly and easily visible in thermal images. This technology works by extracting the highlights and details from visibile light images, then combining them with corresponding thermal images in-camera. The result, as you can see in the comparison below, is a much more descriptive, much more detailed thermal image.
T420bx Additional Features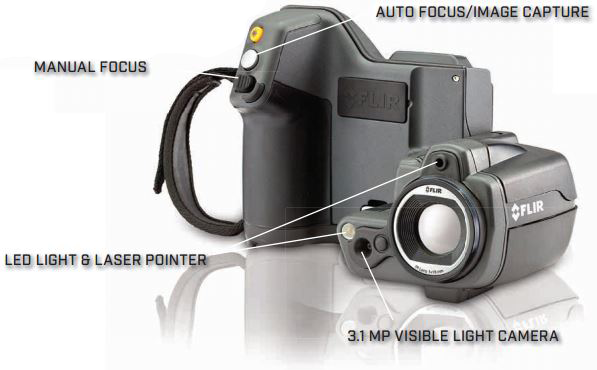 Inspection Optimized
The FLIR T420bx thermal camera was created specifically with building inspection in mind. Unlike the standard T420 thermal camera, the T420bx features unique "alarm alerts" which can be set up to alert the user to humidity and dew point levels as well as gaps in building insulation. Other unique, helpful features for inspectors include the T420bx's integrated laser pointer and LED flashlight. These tools make accurate imaging easier even in environments with limited visibility. Manual and Auto Focus modes on the T420bx allow users to dial in images for the clearest pictures no matter the application. The T420bx also features a rotating optic block to aid in capturing images in awkward, cramped environments. Combined with a 3.5″ LCD touch screen and FLIR's Auto Orientation feature, the T420bx is up to any inspection job even in the toughest, most difficult environemnts.
FLIR Tools Mobile Wi-Fi App
With the free FLIR Tools Mobile App for Apple and Android devices, exporting thermal images and creating reports has never been easier. With a Wi-Fi connection, FLIR Tools Mobile allows you to import thermal images, make adjustments, and create and send out professional reports. This app can be especially useful for building inspectors because it allows for images from the T420bx to be exported and presented to clients on-site in almost no time at all. FLIR Tools Mobile can also stream live thermal video from the T420bx, meaning you can show clients where issues are found in real-time. Thermal images can also be edited via FLIR Tools Mobile by adding measurement spots, changing span and level, changing palettes, editing MSX, and adding notes. After editing, FLIR Tools Mobile makes it easy to create custom professional PDF reports and share them via email, Dropbox, and Box.net.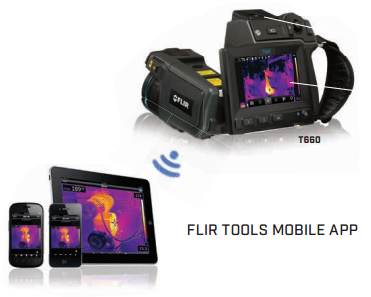 FLIR MeterLink
MeterLink is another example of how FLIR designs its cameras to make inspection and diagnostic work easier and less time-consuming. With MeterLink, the T420bx can communicate via Bluetooth with select FLIR and Extech clamp and moisture meters. By combining these measuring tools using MeterLink, electrical and moisture data are embedded in T420bx thermal images. This can help inspectors quanitfy and investigate causes of thermal events. This means the T420bx gives you the power to carry out more complete inspections with very little extra work.
GPS Location & Compass – The T420bx features a built-in compass and GPS device. With the compass active, camera pointing direction is automatically added to thermal images. With the T420bx's built-in GPS, you can also add exact location coordinates to thermal images.
Alarm Alerts – The T420bx features FLIR's unique alarm alerts for humidity, dew point and insulation, designed to make building inpections quicker and easier. These alarms can be set up to alert users when moisture and insulation issues are detected.
Lens Options – The FLIR T420bx includes a stock 25° lens. Six other options are available including 6°, 15°, 45°, and 90°, as well as close up 100µm and 50µm.
Instant Report – FLIR Instant Report allows you to create professional reports directly from the T420bx thermal camera, with no computer or other device needed. With Instant Report, users can add thermal and visual images, measurements, analysis tools, and annotations to PDF reports which can be shared right from the camera.
Image Annotation – The FLIR T420bx allows to make notes on your thermal images in several ways. You can use the included Bluetooth headset to make voice comments, or use the touchscreen keyboard to make text comments.
FLIR Warranty
The FLIR T420bx is covered under FLIR's impressive 10-5-2 warranty. FLIR provides this warranty for all its thermal cameras. This warranty provides extended 10-year coverage on the IR detector, 5 years on field-replaceable batteries, and 2 years on parts and labor. FLIR can offer this unmatched warranty because it manufactures its camera detectors and other critical components in house. That's why you can always be confident you are buying a long-lasting, high-quality piece of equipment when you buy FLIR.
What's In The Box
• Infrared camera with lens
• Battery (2 ea.)
• Battery charger
• Bluetooth headset
• Camera lens cap
• Calibration certificate
• FLIR Tools download card
• User documentation CD-ROM
• Printed documentation
• Hard transport case
• Memory card
• Neckstrap
• Power supply, incl. multi-plugs
• Sunshield
• USB cable
• Video cable
Flir T420bx 62101-0501 High-Performance Infrared Camera Specifications:
– Image Resolution of 320 x 240 (76,800 Pixels)
– NETD .045°C @ +30°C
– FOV 25° x 19° Optional 90°, 45°, 15° lenses
– Temp Range -4° to 662°F
– Auto/Manual Focus
– IR/Visual/Scalable Picture-in-Picture Fusion Display
– Built In Laser Pointer & Integrated Visual Lamp
– 3.5 inch Landscape [widescreen] Touch Screen
– 3.1 MP visual Camera
– Insulation & Dew point alarms
– 4x Continuous Digital Zoom
– Composite Video Output
– 60Hz Frame Rate
– Rotatable Optical Block
– Joystick Control
– MeterLink Connectivity with Extech Moisture Meter and Voltmeters
– ThermaTrak
– Voice Annotation (60 Sec)
Flir T420bx System Includes:
FLIR T420bx 62101-0501 Camera, Lens w/Lens Cap, (2) Batteries, AC Power Supply Battery Charger, USB-mini cable, SD Card w/Adapters, Sun Shield, Bluetooth Headset, Hand Strap, FlirTools & InstantReport Software, Hard Shell Carrying Case and User Manual
yAaRjuKp6XA:

T Series Building Science Imager

AlUcf_KhBRU:

MSX Enhanced Thermal Images