»

FLIR T420 High Resolution Professional Imager with UltraMax, MSX, Zoom, Auto-Orientation, Rotating Optical Block & Compass 62103-1101 (formerly 62101-0101)
FLIR T420 High Resolution Professional Imager with UltraMax, MSX, Zoom, Auto-Orientation, Rotating Optical Block & Compass 62103-1101 (formerly 62101-0101)
Flir T420 High-Performance Thermal Imager
$8,925.00
Free Shipping!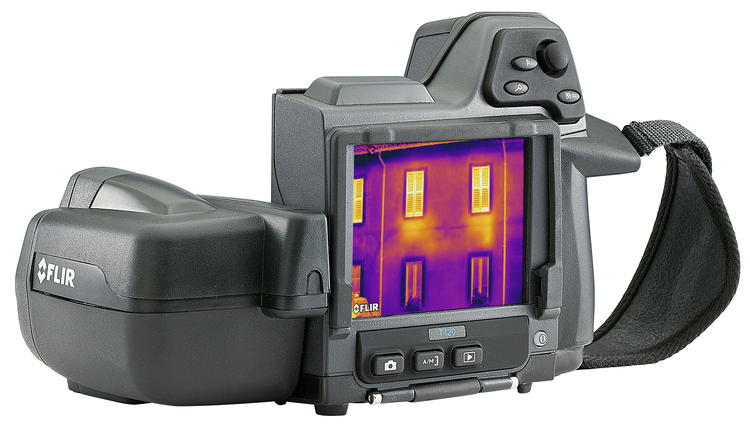 High Performance Infrared
The FLIR T420 thermal imager is part of the powerful FLIR T-Series. These cameras are designed for applications including electrical and mechanical inspections and predictive maintenance, where intensive regular inspections and reports are required. The T420 is unique in that if features a temperature range of -4°F to 1,202°F (-20°C to 650°C), with optional max increase to 2,192°F (1,200°C). Infrared resolution is a large 320 x 240 pixels, giving you the ability to accurately measure at longer distances. This already impressive resolution is enhanced by powerful FLIR proprietary technologies called UltraMax and MSX. The T420 also features 4x continuous zoom as well as manual and automatic focus modes so you can dial in images no matter the application.

FLIR UltraMax
FLIR UltraMax is a resolution-enhancing, proprietary technology available only on FLIR T-Series thermal cameras. UltraMax increases the resolution of thermal images taken with the T420 by 4 times, providing a higher level of temperature measurement accuracy while preserving all radiometric data. For the T420, this means 320 x 240 pixel thermal images can be converted to 640 x 480 pixels. This allows for more detailed analysis of smaller components with the T420 because more pixels improve the camera's distance to spot size ratio. In order for this to be possible, UltraMax captures 16 thermal images in less than one second. Each image is slightly offset from the others due to natural human movement. This data is then combined to form an image that includes many more pixels of the target area. The image below shows an example of how UltraMax enhancement works.

FLIR MSX Thermal Fusion
While thermal images provide descriptive temperature data, they often lack details that are easily visible with the naked eye such as words and numbers. It's because of this that identical digital images are often necessary when analyzing and reporting on thermal images. With FLIR MSX, the need for digital reference images is virtually eliminated. That's because FLIR MSX extracts the high-contrast highlights from the built-in visible camera images and then etches these details onto corresponding thermal images. This is also possible with thermal videos. The images below were taken with a FLIR thermal camera and show the differences in clarity and detail between MSX and standard thermal images.
Designed for Inspectors
The FLIR T Series is designed with inspectors in mind. The company understands that the T420 will be used in many applications where capturing images is not easy for personnel. FLIR has specifically designed the T420 with an optical block capable of rotating 120 degrees up or down in order to make image capture easier in these awkward environments. Fast auto focus as well as precision manual control serve to further aid inspectors and ensure sharp images in tough applications. The T420 also features a bright 3.5 inch LCD touch screen for easy access to tools, images and analytics. FLIR's patented Auto Orientation feature keeps screen images and overlays upright no matter what. In addition, the T420 features a joystick and large backlit buttons which are all easily usable with gloved hands.
FLIR Tools Mobile
FLIR Tools Mobile is a free mobile app for both Android and Apple devices which vastly increases the versatility of the FLIR T420. That's because, with a Wi-Fi connection, you can stream live thermal video directly from a T420 camera to a device with FLIR Tools Mobile. In addition, you can also take remote control of T420 functions like focus, level, span and many other modes. This is extremely helpful when you need to leave the camera on its own for safety reasons, or monitor a target over a long period. FLIR Tools Mobile also gives you the power to import images wirelessly, generate PDF reports, and share findings with colleagues via email or Dropbox.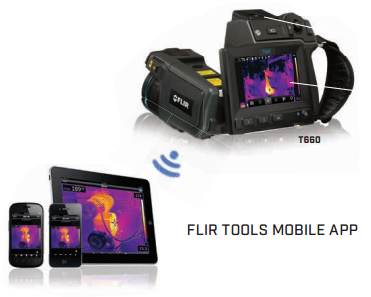 FLIR MeterLink
FLIR MeterLink expands the capability of the T420 thermal imager with Bluetooth-enabled meter communication. With a Bluetooth connection, certain FLIR and Extech clamp and moisture meters are able to transmit data directly to the T420 thermal camera. This extra information is automatically added into thermal images to provide a more complete picture of a thermal event and help quantify its severity. With the FLIR T420, incorporating this essential information into thermal images and reports is simple and easy.
High Accuracy & Sensitivity – The T420 thermal imager features thermal accuracy of ±2% of reading or 2°C. Thermal sensitivity is 0.045°C or 45mK.
Additional Lenses – There multiple interchangeable lenses available for the T420 thermal camera. Six options are currently available including 6° and 15° telephoto, 45° and 90° wide angle, and 100 and 50µm close up. The stock lens for the T420 is 25°.
Multiple Measuring Modes – The FLIR T420 features multiple measuring modes including 5 Spotmeters, 5 Area Boxes, Isotherm, Auto hot/cold spot, and Delta T.
Annotations – The FLIR T420 allows you to add voice comments to images via a Bluetooth headset. One of these is included with each purchase of a T420 camera. The T420 also allows for text annotations via the touch screen keyboard.
GPS Location & Compass – The T420 camera adds camera pointing direction to every image via the built-in compass if this feature is active. With the camera's built-in GPS, you can also add exact location data to thermal images. These features improve location documentation.
Laser Pointer & LED Flashlight – The integrated laser pointer on the T420 helps pinpoint a reference spot in thermal images. You can then align a marker to it in images for precise detection. The built-in LED flashlight helps further improve precision in dark, more awkward areas.
FLIR Warranty
The FLIR T420 is covered under the same impressive 10-5-2 warranty FLIR includes with all its thermal cameras. This warranty provides extended 10-year coverage on the IR detector, 5 years on field-replaceable batteries, and 2 years on parts and labor. FLIR can offer this incredible warranty because it manufactures its camera detectors and other critical components in house. With FLIR, you can always be confident you are buying a long-lasting, high-quality piece of equipment.
Industry Professionals – call to discuss special industry discount options
Flir T420 62101-0101 High-Performance Infrared Camera Specifications:
– Image Resolution of 320 x 240 (76,800 Pixels)
– NETD .045°C @ +30°C
– FOV 25° x 19° Optional 90°, 45°, 15° lenses
– Temp Range -4° to 1202°F
– Auto/Manual Focus
– IR/Visual/Scalable Picture-in-Picture Fusion Display
– Built In Laser Pointer & Integrated Visual Lamp
– 3.5 inch Landscape [widescreen] Touch Screen
– 3.1 MP visual Camera
– 4x Continuous Digital Zoom
– Composite Video Output
– 60Hz Frame Rate
– Rotatable Optical Block
– Joystick Control
– MeterLink Connectivity with Extech Moisture Meter and Voltmeters
– ThermaTrak
– Voice Annotation (60 Sec)
Warranty: 10-Year Detector Protection, 5-year Battery and 2-Year Parts & Labor
Flir T420 System Includes:
FLIR T420 62101-0101 Camera, Lens w/Lens Cap, (2) Batteries, AC Power Supply Battery Charger, USB-mini cable, SD Card w/Adapters, Sun Shield, Bluetooth Headset, Hand Strap, FlirTools & InstantReport Software, Hard Shell Carrying Case and User Manual
OclezpXYP_E:

T Series PM Imager

AlUcf_KhBRU:

MSX Enhanced Thermal Images