»

FLIR E6 Infrared Camera 63902-0202 Now Upgraded with Wi-Fi Connectivity and on Sale!
FLIR E6 Infrared Camera 63902-0202 Now Upgraded with Wi-Fi Connectivity and on Sale!
FLIR E6 Infrared Camera - 63902-0202 Great performance, durable design and an affordable price!
$2,495.00
$1,999.00
You save $496.00 (20%)!
Free Shipping!
Recommended Accessories with the point and shoot Ex series camera include a spare rechargeable battery ($50) and a nylon carrying pouch to keep your IR camera safely and comfortably on your body on job sites ($40).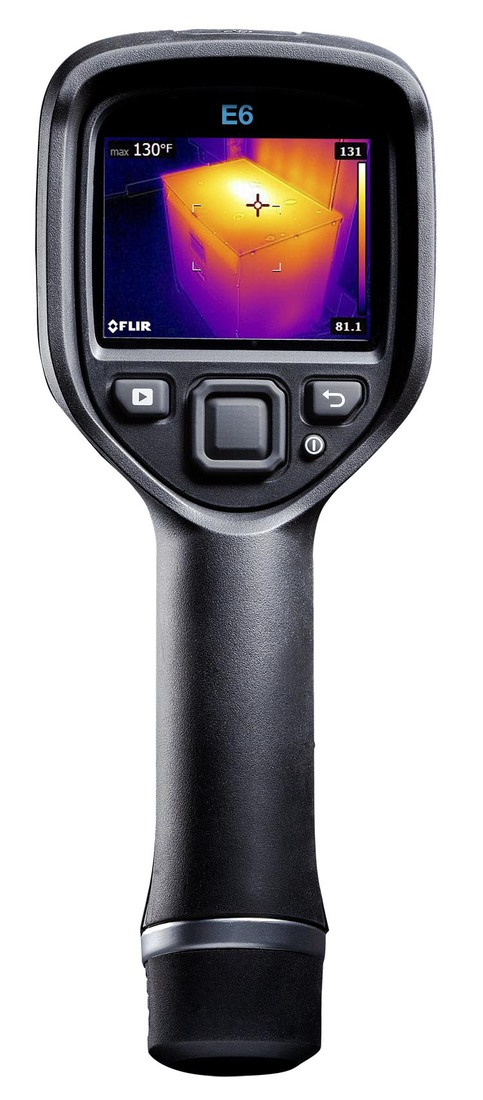 Product Information
FLIR E6 Thermal Imager 160 × 120 (19,200 Pixels)
Thermal Imaging Camera with MSX
The new FLIR E6 thermal camera is designed to enhance the electrical, mechanical, and building diagnostics of users across key industries and professions. The FLIR E6 is an affordable solution that can help professional users track down electrical and mechanical overheating, air leaks, moisture ingress, missing insulation, and a host of other issues that thermal imagers can detect and quantify.
Other Features
Featuring a 19,200 (160 x 120) pixel IR resolution (which exceeds the RESNET IR resolution standard), a -4 to 482 degrees F (-20 to 250 degrees C), and ±2 percent or 2 degrees C accuracy, the FLIR E6 features a compact, rugged and user-friendly design, a vivid 3-inch color LCD display, wide-angle autofocus lens, intuitive camera controls, and an on-board 640 x 480-pixel digital camera.
MSX Imaging Technology
The E6 also provides FLIR's exclusive MSX (Multi-Spectral Dynamic Imaging) technology, which uses visible details from digital camera photos to create sharper IR images. Along with delivering a much clearer thermal picture overall, MSX makes it much easier to recognize the location of heat issues without obscuring or compromising the integrity of the original thermal scene. MSX is ideal for creating an all-in-one thermal image that clearly illustrates the location of emerging or existing issues, and the bundled FLIR Tools software makes it simple to import, analyze, and incorporate images into easy-to-understand reports to help provide convincing evidence for repairs.
Warranty
The new FLIR E6 is covered under an industry-leading 10-5-2 warranty, which provides an extended 10-year warranty on the IR detector, 5 years' protection on field-replaceable batteries, and 2 years' of coverage on parts and labor.
Problems & Solutions
Electrical Problems — Detect hidden electrical problems like loose connections, faulty wiring, and failing circuits.
HVAC Problems — Discover leaky ductwork and troubleshoot heating, AC, and radiant flooring problems.
Missing Insulation — Locate poor and missing insulation by comparing temperature differences with surrounding areas.
Water Damage — Find and fix hidden water leaks before small issues turn into large, expensive problems.
Air Infiltration — Reveal air leaks around windows, doors, and other building envelope structures.
Mold and Rot — See temperature differences to expose moisture, avoiding extensive damage and health issues.
Destructive Pests — Hunt down burrowing and nesting insects and rodents before expensive damage occurs.
Now you can afford the ultimate home inspection tool. Gain the competitive advantage, get more done, and take care of more customers. Blow them away with dramatic MSX thermal images that clearly reveal where missing insulation, air leaks, and moisture intrusion are hiding — convincing evidence that shows where to make repairs to improve energy efficiency, structural integrity, and comfort. An E4, E5, E6 or E8 can help you solve problems and save money for property owners, leading to greater credibility and opportunities.
Your Vision Is About to Go Thermal
FLIR thermal imaging cameras let you see amazing things that your eyes alone can't, taking you beyond the visible spectrum into the infrared world of hot and cold. With the power to detect and visualize heat issues, a FLIR can show you where potential trouble is brewing. By using a thermal imager to help you find hidden problems early, you have a chance to get them fixed before they cause "self-evident" damage, waste more energy, hurt someone, or shut things down.
Which Camera is Right for You?
Whether you're new to infrared inspections or already a Level III thermographer, a variety of important factors will figure into your thermal camera decision: how often you use the camera, what you're inspecting, the angles you're shooting from, target size, high temperatures, distance, and other considerations. That's why we've created this guide to help you determine the right fit for your application, budget, and the way you like to work.
Consider the insulation contractor who got off to a fast start with a low-cost i7 and quickly became known for finding all kinds of ways to help people save on their energy bills. Needing to add a second camera to keep pace, he chose an E60 for its higher IR detail, built-in digital camera, and MSX® enhancement for clearer documentation. The FLIR app connectivity to his iPad made it easier to show results to customers. And the 320 x 240 image clarity improved his web site.
Obviously, different requirements mean one thermal imager may or may not fit all. So, along with this guide, we encourage you to consult with us as your authorized FLIR dealer and we'll answer your questions so that you can make the best decision for you and your business.
MSX: A Bold New Form of Thermal Imaging
If you plan to share saved images with customers or co-workers, a thermal image alone isn't always enough to help them understand what they're seeing. That's why FLIR developed MSX ® Multi-Spectral Dynamic Imaging to bring together the best of both spectrums in a striking, innovative way. Now onboard the full line of new FLIR E-Series and T-Series cameras, MSX instantaneously generates a definitive, all-in-one thermal picture that easily orients you to the location of the problem as soon you see it on the screen or in a report. No more guesswork or messing around with extra photos.
Thermal Imaging for Building Diagnostics
FLIR infrared cameras give you the power to make the invisible visible. With thermal imaging, you can immediately see, identify, and document telltale temperature differences that show moisture damage, missing insulation, air drafts, nests in walls, and more.
Thermal imagers from FLIR can help you find hidden building problems faster than any other technology, and produce customized reports to justify and validate the quality of repair work.
Missing Insulation
Locate poor insulation quickly by detecting and comparing differences with surrounding areas.
Water Damage
Find and fix hidden water damage quickly before small problems become big, expensive ones, and document proof of your repairs.
Air Leaks
Detect air leaks around windows, doors, and other structures. Repairing them saves energy and money.
Electrical Problems
Finding hidden electrical problems is easy with FLIR, allowing you to take quick action to solve them.
HVAC Problems
Discover leaking ductwork and troubleshoot heating, AC, and radiant flooring problems to maximize energy efficiency.
Mold and Rot
See temperature differences to expose hidden leaks that can lead to expensive and extensive health issues and structural damage.
Destructive Pests
Hunt down burrowing and nesting insects and rodents before they eat customers out of house and home.
The First Real Infrared Cameras with Thermal, Visible, and MSX Imaging Starting Under $1K
Now you can afford the ultimate inspection tool. Gain the competitive advantage and take care of more customers. Blow them away with dramatic MSX thermal images that clearly reveal problems from sources of energy loss, moisture intrusion and structural issues to overheating electrical and mechanical equipment.
MSX® Thermal Image Enhancement

MSX adds key details from the onboard visible light camera to the entire infrared image in real time. The result: an all-in-one thermal picture with numbers, labels, and other structural features intact so you'll instantly recognize where the heat issue is.
Affordable Resolution Choices

From the 4800-pixel thermal image clarity of the E4 to the E8's incredible 320×240 detector with 76,800 pixels, new FLIR Ex-Series cameras offer a resolution to fit the target size, working distance, and detail required for your application as well as your budget.
The Power of One Button

A focus-free lens and simple button navigation to on-screen settings, imaging modes, measurement tools, and saved JPEGS make all four of these cameras amazingly easy to operate, even with just the press of a single gloved thumb.
| | |
| --- | --- |
| | Removable BatteryQuick-release, tool-type Li-ion battery is easy to remove, recharge and snap back in. Charge in-camera or with the optional charging station to keep you up and running all day. |
Fast Temperature Measurement Tools
The E4 on up feature an on-screen center spotmeter for measuring temperatures. The E5, E6, and E8 also give you an area box tool with an automatic hot or cold spot that hunts down temperature extremes. And the E6 and E8 provide a blue-below and red-above color alarm to quickly alert you to heat issues.
Multiple Imaging Modes
All Ex-Series cameras let you view thermal, visual, and MSX images and store them simultaneously for further analysis using FLIR Tools software. The E6 and E8 also offer Picture-in-Picture that inserts the thermal image over the visible photo as an extra documentation option.
| | | |
| --- | --- | --- |
| | | |
| Thermal Only | Thermal with MSX | Picture-in-Picture |
Flir E6 MSX Technology Thermal Imaging Capture
New Feature: Manual Level & Span – Thermally Tune your images
What's In The Box
Thermal Camera
Hard Transport Case
USB Cable
Power Supply/Charger
Rechargeable Battery
FLIR E6 Infrared Camera Specifications:
| | |
| --- | --- |
| Accuracy | +/- 2°C or +/- 2% of reading |
| Resolution | 160 x 120 pixels (19,200) |
| Thermal sensitivity (N.E.T.D) | < 0.06°C (60mK) |
| Temperature Range | -4°F to 482°F (-20°C to 250°C) |
| MSX® Thermal Image | Yes |
| Measurement modes | 3 modes: 1 spot (center); 1 area box (Min/Max); Isotherm |
| Spot Mode | Center/Fixed |
| Frequency | 9Hz |
| Field of View | 45°x34° |
| Focus | Focus Free |
| Picture-in-Picture | Fixed PiP |
| Min. Focus Distance | 1.6ft (0.5m) |
| Radiometric JPEG via USB | Yes |
| Thermal color palettes | 3: Iron, Rainbow, and Gray |
| FLIR Tools for PC and Mac | Yes |
| Battery Operating Time | ~4 hrs |
| Built-in Digital Camera | 640 x 480 |
| Drop (2 meter/6.6 feet) | Yes |
| Weight (including battery) | 1.27 lbs (0.575kg) |
Warranty: 10-Yr Detector Protection, 5-Yr Battery and 2-Yr Parts & Labor
System Includes: FLIR Product ID: 63902-0202 IR Camera, (1) battery, AC power supply battery charger, USB-mini cable, FLIR Tools software, hard carrying case, and user manual.
Call to learn more and place your order. 800-221-0163 or email sales@monroeinfrared.com
Complete your infrared investment with professional thermography training and certification. Both onsite and regionally offered classes scheduled regularly in most states including AZ, NV, WA, CA, TX, IL, WI, TN, FL, GA, NC, SC, VA, AL, NJ, PA, UT, NY, NH, OH, IN, KY and IL. classes scheduled less frequently yet can still be available in OR, ID, MT, WY, ND, SD, NE, OK, MO, MI, MS, ME, NH, VT, RI, MA, CT, DE, NM, HI and AK. Onsite Classes can be scheduled anywhere in the USA including Alaska and Hawaii with sufficient lead time.
veYTWV8czxQ:

Ex Series Thermal Imager

AlUcf_KhBRU:

MSX Enhanced Thermal Images