»

FLIR E50 Infrared Camera 64501-0201 Being discontinued Feb 2017 - Special Order Only
FLIR E50 Infrared Camera 64501-0201 Being discontinued Feb 2017 - Special Order Only
FLIR E50 Thermal Imager - Outstanding infrared camera thousands less than comparable competitors, Industry Professionals please call to discuss special discount options.
$5,995.00
Free Shipping!
FLIR E40, E40bx, E50, E50bx and E60bx are being discontinued by the manufacturer in Feb 2017. The new Exx series cameras are the E75, E85 and E95 models with much greater resolution, improved thermal sensitivity, auto-focus and continuous auto-focus, laser distance meter, larger screen, interchangeable lenses which do not require manufacturer calibration, larger more intuitive 4-inch touch screen, plus other features. The FLIR E60 is still available at a $3000 discount, now only $4999. Learn more and make your best informed decision!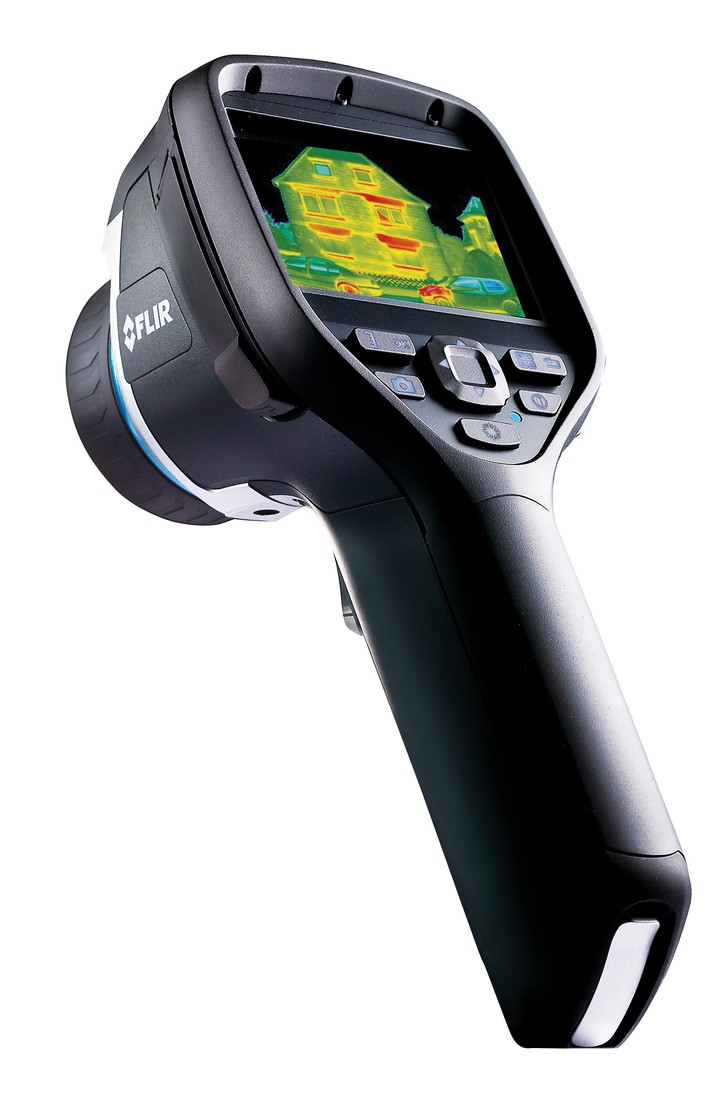 Industrial Inspection & Building Diagnostics
The FLIR E50 is a powerful handheld thermal imaging camera, part of the FLIR Exx Series. The E50 has a 240 x 180 pixel resolution, as well as 50mK (0.05°C) thermal sensitivity, providing consistently clear and accurate thermal images. The E50 also features 4x continuous digital zoom and a scalable picture-in-picture mode. The E50 thermal imager is designed specifically for electricians, plant maintenance experts, building inspectors, energy auditors, and HVAC professionals who regularly perform and report thermal inspections. The E50 incorporates many features which make creating inspection reports easier and faster, including FLIR MSX, FLIR Tools Mobile, and FLIR MeterLink.
E50 Specifications
High-temperature range up to 650°C/1,202°F
Accuracy of ±2% of reading
60 Hz frame rate for smooth video
3 moveable spots and 3 box areas
Telephoto & wide angle lens options
3.5" LCD touch screen w/ Auto Orientation
Integrated 3.1 megapixel digital camera
Drop Tested to 2 meters
FLIR E50 Features
FLIR MSX Thermal Image Enhancement
Visual Thermal
Extracted Detail MSX Image
FLIR MSX is the company's unique take on thermal fusion technology. With MSX enabled on the FLIR E50, highlights and details are extracted from the camera's visible light digital images and overlayed with the identical thermal images. The result, as you can see in the images below, is a much more detailed and easier to read thermal image. Words and numbers can be easily recognized in these images, virtually eliminating the need for visible light reference images and saving time during reporting. MSX can also be enabled when capturing thermal video.
FLIR Tools Mobile
FLIR Tools Mobile is a free Wi-Fi app available for Apple and Android smartphones and tablets. With FLIR Tools Mobile, the E50 can stream video and import images to directly to mobile devices via a wireless internet connection. Once images have been imported to FLIR Tools Mobile, you can use the app to adjust span and level, change palettes, add up to 3 measurement spots, and add additional notes. Once image processing is done, FLIR Tools Mobile can also help you easily create professional reports and distribute them via email. Reporting has never been easier or faster with the FLIR E50.
FLIR MeterLink
FLIR thermal imagers like the E50 have the power to clearly reveal electrical problems, moisture damage and energy loss. However in some cases, more than just simply locating and recording these issues is necessary. With FLIR MeterLink, you can quantify these problems using FLIR or Extech MeterLink-enabled clamp and moisture meters. With MeterLink, these meters can transmit data to the E50 via a Bluetooth connection. This data is then embedded in thermal images, providing you and your colleagues with a more complete picture of the problem at hand.
Digital Camera with LED Light
If you need to generate regular reports from your thermal camera findings, a visible-light camera and built-in light are essential. The FLIR E50 features an integrated 3.1 megapixel digital camera as well as a powerful LED light for capturing sharp, descriptive digital images even in dark areas. The E50 also features a built-in laser pointer for increased shooting accuracy. The laser can be used to pinpoint a reference spot in an image which you can then align a marker to via the E50's touchscreen. These features consistently give images from the E50 a professional level of detail and precision.
Intuitive Touchscreen Interface
Touchscreen technology is a common technology in today's world which has come a long way in a short amount of time. FLIR has incorporated the best and latest touchscreen technology into the E50, meaning its 3.5 inch LCD touch interface is responsive, precise and smooth. FLIR calls this technology Dark Precision. With this technology on the E50, you can instantly tap into multiple temperature measurement tools, image modes, archived JPEGs, data overlays and more. Plus, with FLIR's Auto-Orientation feature, on-screen images and overlays remain upright no matter how the camera is held.
High-Temperature Range & Sensitivity: The FLIR E50 features a high-temperature measurement range, extending from -4 to 1202°F (-20 to 650°C). The E50 also features high thermal sensitivity of 50mK (0.05°C). The combined power of these features allow you to measure hotter-running equipment more accurately.
High Accuracy: The FLIR E50 is accurate to ±2% of reading. This high level of accuracy means you can be confident the E50 will give consistent, repeatable results every time it's used.
Annotations: The FLIR E50 allows you to easily add voice or text comments to images. This makes inspections more streamlined and saves you time during the image analysis process.
Multiple Measuring Modes: The FLIR E50 supports up to 3 spot meters, 3 moveable area boxes with min/max/avg., color alarms, auto hot/cold spot, and Delta T measuring. In addition, the E50 features a scalable picture-in-picture mode with the option to use FLIR MSX.
Accessories: FLIR offers a range of accessories for the E50. Currently available accessories include 15° and 45° lenses, sun shield, tripod adapter, car charger kit, Bluetooth headset, video cable, extra batteries, dual-bay charger, and carrying pouches.
FLIR Warranty
FLIRs exclusive Double Diamond 2-5-10 warranty covers the whole camera for 2 years, the battery for 5 years, and the detector for 10 full years. To be eligible for this warranty you must register your E50 camera with FLIR within 60 days of purchase. Only FLIR can give you the peace of mind that comes with a warranty program like this because only FLIR makes all of its thermal cameras' critical components from the ground up.
What's In The Box
Infrared E50 camera with 25 degree lens
Hard transport case
Battery
Power supply w/ multi-plugs
Calibration certificate
Camera lens cap
Downloads brochure
FLIR Tools software
Handstrap
Memory card
Printed Getting Started Guide
Printed Important Information Guide
Service & training brochure
USB cable
User documentation CD-ROM
Video cable
Warranty extension card
Outstanding thermal imager, thousand less than comparable competitors!
FLIR E50 64501-0201 Infrared Camera Specifications:
Multi-Spectral Dynamic Imaging (MSX) for easier interpretation of an image
-4 to 1202°F temperature range
43,200 pixel resolution (240 x 180)
Thermal sensitivity: < 0.05°C
Scalable Picture-in-Picture
Onboard 3.1MP digital camera
3.5 inch touchscreen display with auto-orientation
3 Spotmeters
Image annotation (voice + text)
25° x 19° field of view
7.5 to 13µm spectral range
Stores over 1000 radiometeric JPEG images on SD card
Manual focus lens with 4x continuous digital zoom
MeterLink technology embeds information from compatible clamp and moisture meters onto thermal images
FLIR Tools Mobile connects to compatible smartphones and tablets via Bluetooth
Warranty: 10-Yr Detector Protection, 5-Yr Battery and 2-Yr Parts & Labor
System Includes: FLIR 64501-0201 IR Camera, lens w/ lens cap, (1) battery, AC power supply battery charger, USB-mini cable, SD card w/ adapters, FLIR Tools software, hard carrying case, and user manual
ySpuj8baz70:

E Series Imagers

AlUcf_KhBRU:

MSX Enhanced Thermal Images

pOj_Oc1rmsk: