»

FLIR E50bx Infrared Camera 64501-0601 Being discontinued Feb 2017 - Special Order Only
FLIR E50bx Infrared Camera 64501-0601 Being discontinued Feb 2017 - Special Order Only
$5,995.00
Free Shipping!
FLIR E40, E40bx, E50, E50bx and E60bx are being discontinued by the manufacturer in Feb 2017. The new Exx series cameras are the E75, E85 and E95 models with much greater resolution, improved thermal sensitivity, auto-focus and continuous auto-focus, laser distance meter, larger screen, interchangeable lenses which do not require manufacturer calibration, larger more intuitive 4-inch touch screen, plus other features. The FLIR E60 is still available at a $3000 discount, now only $4999. Learn more and make your best informed decision!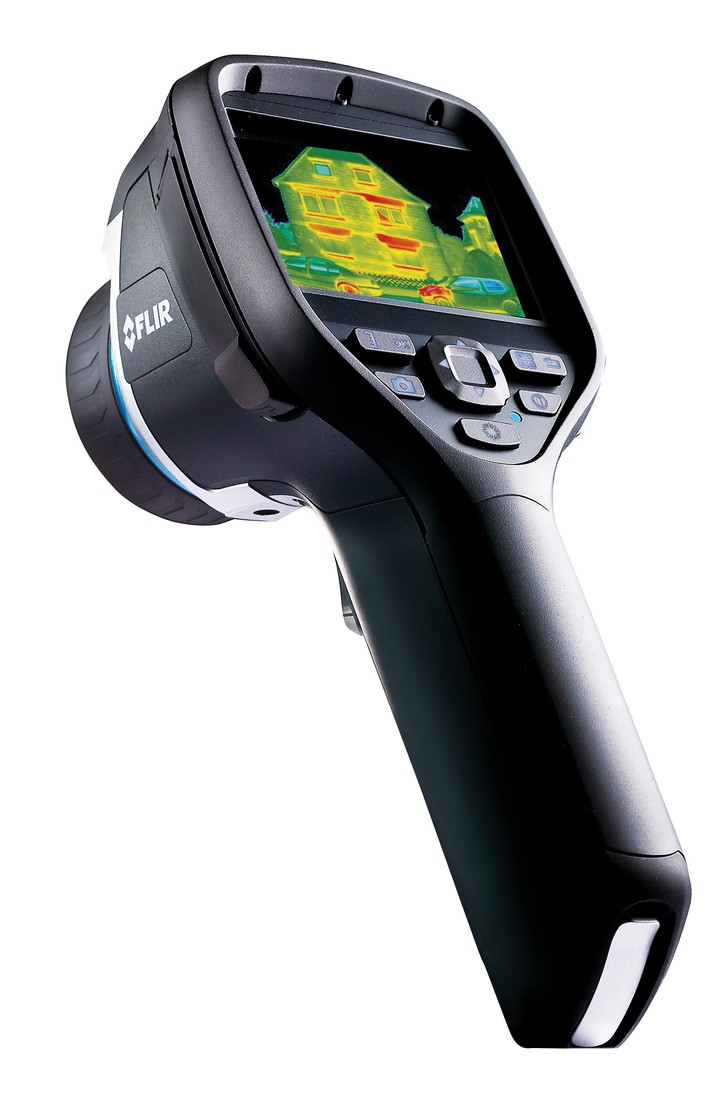 FLIR E50bx Diagnostic Thermal Imaging Camera
Professional Building Inspection
The FLIR E50bx is a mid-range camera part of the "bx" line of FLIR Exx-Series thermal imaging cameras. These "bx" models are designed specifically for home and building inspection applications and include numerous features designed to make work easier in these areas. Chief among these features are FLIR Alarm Alerts. On the E50bx, Alarm Alerts can be set up to alert users to humidity and dew point, as well as areas where in-wall insulation is lacking. These alerts can be very helpful when trying to determine causes of building envelope issues or when trying to maximize building efficiency. FLIR has also included features like FLIR Tools Mobile, which make reporting fast and easy even when in the field. With FLIR Tools Mobile, users can also stream live thermal video and make adjustments to camera settings via a Wi-Fi connection. This can be helpful when showing and describing issues to clients.
E50bx Additional Specifications
High Resolution 240 x 180 pixel infrared imaging
Temperature range of -4°F to 248°F (-20°C to 120°C)
±2°C or ±2% of reading accuracy
45mK thermal sensitivity
3.5" LCD touch screen w/ Auto Orientation
60Hz frame rate
FLIR MSX Thermal Fusion
FLIR MeterLink
FLIR E50bx Features
FLIR MSX Thermal Image Blending
The FLIR E50bx comes equipped with FLIR's powerful MSX thermal fusion technology. Thermal fusion, or image blending, is a method of combining thermal and visible light images to create more detailed thermal pictures. Many manufacturers incorporate some form of this technology, however FLIR MSX is unique. Rather than overlay thermal and visible images, FLIR MSX actually extracts highlights and details from visible light images then combines them with corresponding infrared images in-camera. The resulting images are much more detailed. Structural elements, labels, numbers, and other fine details can easily be seen in MSX thermal images. This virtually eliminates the need for a reference image. The images below are real examples of MSX and non-MSX images. The difference is clear.
FLIR MSX thermal fusion
Intuitive & Ergonomic Design

The FLIR E50bx incorporates many features which make inspections and diagnostic duties easier. The camera's integrated 3.5 inch LCD touch screen provides easy access to analysis tools, like spots and area boxes, as well as camera settings. FLIR's proprietary Auto Orientation function keeps screen images upright no matter how the camera is held. The E50bx also features intuitive button-based operation, which can be used with one hand even while gloved for more streamlined inspections. The E50bx's manual focus mode can also be used at any time by adjusting the large, rubberized manual focus ring.
E50bx touch screen display Wireless FLIR Tools Mobile App
FLIR Tools Mobile Wi-Fi App

FLIR Tools Mobile is a free app for Android and Apple devices which allows for wireless communication between the E50bx infrared camera and devices with the app via a Wi-Fi connection. FLIR Tools Mobile can stream live thermal video from the E50bx, making it easy to show problem areas to clients. FLIR Tools Mobile also gives you the ability to change camera settings in real-time as well as make adjustments to images after capturing. Above all, FLIR Tools Mobile makes reporting fast and easy. Simply import your images via Wi-Fi, create professional PDF reports in the app, and send them out via email, Dropbox and other services.
FLIR MeterLink
FLIR MeterLink allows for Bluetooth-enabled communication between the FLIR E50bx infrared camera and certain FLIR and Extech moisture and clamp meters. This means that thermal and electrical data can be embedded directly into thermal images. Having this data included with infrared images can make identifying and quantifying thermal events easier when moisture or electrical variables are involved. This makes MeterLink especially helpful in home inspection applications.
Bluetooth MeterLink Communication E50bx LED flashlight
Digital Camera, Laser & Flashlight
The FLIR E50bx features a built-in 3.1 megapixel visible light digital camera for capturing reference images of areas where you perform thermal inspections. Incorporated with the digital camera is a powerful LED light which doubles as a camera flash and independent flashlight for inspecting dark areas. Another integrated tool which makes image capture and identification easier is the built-in laser pointer on the E50bx. This laser can help you align your camera to a reference spot or marker for more accurate aim when shooting.
Alarm Alerts – The FLIR E50bx, as part of the FLIR "bx" series of infrared cameras, features Alarm Alerts. These alerts can be set to notify you to the prescence of humidity and dew point, as well as areas where insulation has failed, which can be crucial for home inspection applications.
Measuring Modes – The FLIR E50bx features a range of measuring modes inlcuding 3 spotmeters, 3 moveable area boxes, isotherm, auto hot/cold spot, and Delta T measuring. A scalable picture-in-picture mode with the option to use FLIR MSX is also available.
FLIR Lens Options – The FLIR E50bx standard lens features a 25 degree field of view, a mid-range FOV good for most applications. FLIR also offers 15 degree telephoto and 45 degree wide angle lens options for the E50bx to expand the camera's versatility for more specialized applications.
Annotations – The FLIR E50bx allows you to easily add voice or text comments to images. This makes inspections more streamlined and saves you time during the image analysis process.
FLIR E50bx Warranty
FLIR is well-known in the infrared camera industry for its comprehensive 10-5-2 warranty on thermal cameras. This impressive warranty from FLIR gives you a 10-year warranty on the IR detector, 5 years on field-replaceable batteries, and 2 years on parts and labor. No other thermal camera manufacturer can offer a warranty this strong because no one else manufactures thermal cameras to the same level of quality as FLIR. That's just one reason why FLIR is among the leading thermal camera companies in today's market.
What's In The Box
E50bx Building Inspection Thermal Camera
Hard Transport Case
Battery Charger
2 Batteries
Memory Card
USB Cable
Video Cable
Hand Strap
Power Supply
Documentation CD (with manual)
Software Card
Outstanding thermal imager thousands less than comparable competitors! Industry Professionals please call to discuss special discount options
FLIR E50bx 64501-0601 Infrared Camera Specifications:
Multi-Spectral Dynamic Imaging (MSX) for easier interpretation of an image
High quality thermal imaging at 43,200 pixels (240 × 180)
Thermal sensitivity: < 0.045°C
3.5 inch touch-screen LCD with auto-orientation
Manual focus lens with 4× continuous digital zoom
60 Hz image frequency
3.1 megapixel digital visible light camera with lamp
Auto/manual level span adjustments
Scalalbe Picture-in-Picture
Image annotation (voice + text)
25° x 19° field of view
7.5 to 13µm spectral range
Stores over 1000 radiometeric JPEG images on SD card
MeterLink technology embeds information from compatible clamp and moisture meters onto thermal images
FLIR Tools Mobile connects to compatible smartphones and tablets via Bluetooth
3 moveable spots and 3 box areas
Warranty: 10-Yr Detector Protection, 5-Yr Battery and 2-Yr Parts & Labor
System Includes: FLIR IR 64501-0601 Camera, lens w/ lens cap, (1) battery, AC power supply battery charger, USB-mini cable, SD card w/ adapters, FLIR Tools software, hard carrying case, and user manual
ySpuj8baz70:

E Series Imagers

AlUcf_KhBRU:

MSX Enhanced Thermal Images

pOj_Oc1rmsk: