»

FLIR E5 Infrared Camera 63905-0501 Now Upgraded with Wi-Fi Connectivity and on Sale!
FLIR E5 Infrared Camera 63905-0501 Now Upgraded with Wi-Fi Connectivity and on Sale!
FLIR E5 Infrared Camera - 63905-0501 is an excellent thermal imager for a very affordable price!
$1,495.00
$1,199.00
You save $296.00 (20%)!
Recommended Accessories with the point and shoot Ex series camera include a spare rechargeable battery ($50) and a nylon carrying pouch to keep your IR camera safely and comfortably on your body on job sites ($40).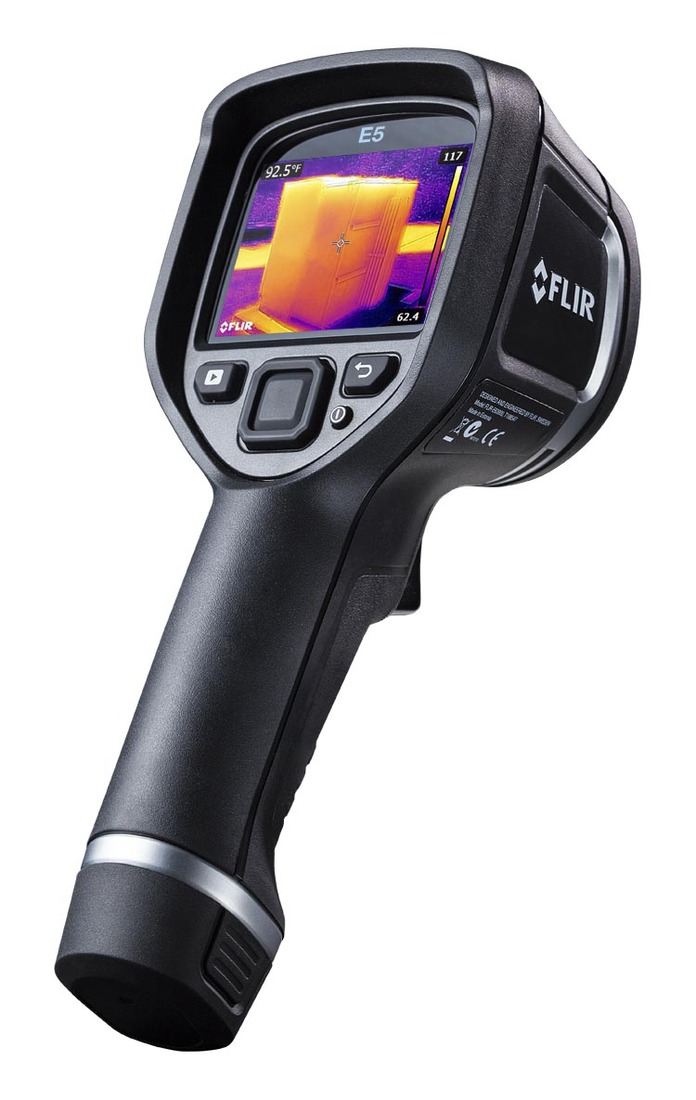 Flir E5 Thermal Imaging Camera MSX Enabled is the first entry in FLIR's new line of point and shoot cameras that establish a new standard for their class with MSX, allowing visible light details to be imbedded into thermograms for enhanced reporting and image clarity.

FLIR E5 Infrared Camera Specifications:
| | |
| --- | --- |
| Accuracy | +/- 2°C or +/- 2% of reading |
| Resolution | 120 x 90 pixels (10,800) |
| Thermal sensitivity (N.E.T.D) | < 0.10°C (100mK) |
| Temperature Range | -4°F to 482°F (-20°C to 250°C) |
| MSX® Thermal Image Enhancement | Yes |
| Measurement modes | Spot (center) mode |
| Spot Mode | 2 modes: 1 spot (center); 1 area box (Min/Max) |
| Frequency | 9Hz |
| Field of View | 45°x34° |
| Focus | Focus Free |
| Min. Focus Distance | 1.6ft (0.5m) |
| Radiometric JPEG via USB | Yes |
| Thermal color palettes | 3: Iron, Rainbow, and Gray |
| FLIR Tools for PC and Mac | Yes |
Warranty: 10-Yr Detector Protection, 5-Yr Battery and 2-Yr Parts & Labor
System Includes: Flir Product ID: 63905-0501 IR Camera, (1) battery, AC power supply battery charger, USB-mini cable, FLIR Tools software, hard carrying case, and user manual.
Call to learn more and place your order. 800-221-0163 or email sales@monroeinfrared.com
Complete your infrared investment with professional thermography training and certification. Both onsite and regionally offered classes scheduled regularly in most states including AZ, NV, WA, CA, TX, IL, WI, TN, FL, GA, NC, SC, VA, AL, NJ, PA, UT, NY, NH, OH, IN, KY and IL. classes scheduled less frequently yet can still be available in OR, ID, MT, WY, ND, SD, NE, OK, MO, MI, MS, ME, NH, VT, RI, MA, CT, DE, NM, HI and AK. Onsite Classes can be scheduled anywhere in the USA including Alaska and Hawaii with sufficient lead time.
veYTWV8czxQ:

Ex Series Thermal Imager

AlUcf_KhBRU:

MSX Enhanced Thermal Images