»

FLIR E40 Infrared Camera 64501-0101 Being discontinued Feb 2017 - Special Order Only
FLIR E40 Infrared Camera 64501-0101 Being discontinued Feb 2017 - Special Order Only
$3,995.00
Free Shipping!
FLIR E40, E40bx, E50, E50bx and E60bx are being discontinued by the manufacturer in Feb 2017. The new Exx series cameras are the E75, E85 and E95 models with much greater resolution, improved thermal sensitivity, auto-focus and continuous auto-focus, laser distance meter, larger screen, interchangeable lenses which do not require manufacturer calibration, larger more intuitive 4-inch touch screen, plus other features. The FLIR E60 is still available at a $3000 discount, now only $4999. Learn more and make your best informed decision!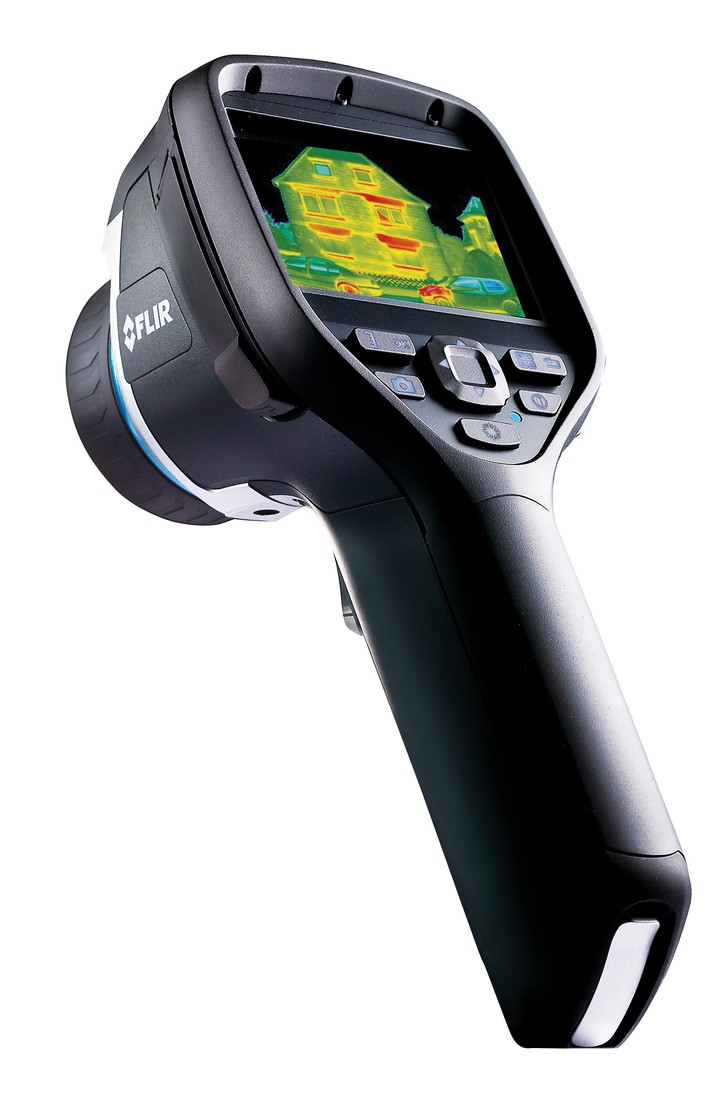 Industry Professionals please call to discuss special discount options. Free shipping and insurance. Buy with confidence from true infrared professionals. We are all certified thermographers, we use the equipment we train our clients on and that we sell. We are available AFTER the sale when you have questions. This is the best sale EVER on the FLIR E40 and E40bx. This infrared camera has excellent resolution and extremely good thermal sensitivity. If you have been considering investing in infrared this is an excellent choice to start working with IR. Remember – your FLIR infrared camera is warrantied on the detector for 10 years and will likely provide you excellent service well beyond that. Make a smart investment today!
NEW! MSX Image Enhancement adds visible spectrum definition to IR images in real time for extraordinary thermal detail that instantly highlights problem locations
AUTO-ORIENTATION

Industry Professionals – call to discuss special industry discount options
FLIR E40 64501-0101 Infrared Camera Specifications:
Multi-Spectral Dynamic Imaging (MSX) for easier interpretation of an image
-4 to 1202°F temperature range
19,200 pixel resolution (160 x 120)
Thermal sensitivity: < 0.07°C
Fixed Picture-in-Picture
Onboard 3.1MP digital camera
3.5 inch touchscreen display with auto-orientation
3 Spotmeters
Image annotation (voice + text)
25° x 19° field of view
7.5 to 13µm spectral range
Stores over 1000 radiometeric JPEG images on SD card
Manual focus lens with 2x continuous digital zoom
MeterLink technology embeds information from compatible clamp and moisture meters onto thermal images
FLIR Tools Mobile connects to compatible smartphones and tablets via Bluetooth
Warranty: 10-Yr Detector Protection, 5-Yr Battery and 2-Yr Parts & Labor
System Includes: FLIR IR Camera 64501-0101, lens w/ lens cap, (1) battery, AC power supply battery charger, USB-mini cable, SD card w/ adapters, FLIR Tools software, hard carrying case, and user manual.
ySpuj8baz70:

E Series Imagers

AlUcf_KhBRU:

MSX Enhanced Thermal Images

pOj_Oc1rmsk: