Description
HIKMICRO M11W handheld thermography camera is specially designed for professional inspections of large objects where a
wider FOV captures more of the scene in one picture.
27,648 thermal pixel resolution
Thermal sensitivity (NETD) < 40 mK (@ 25 °C, F#=1.0)
Accuracy of +/- 2 degrees Celsius
 Wide temperature measurement range: -20°C to 550°C
High temperature measurement accuracy: Max. (± 2°C/3.6°F, ± 2%), for ambient temperature 15°C to 35°C (59°F to
95°F) and object temperature above 0°C (32°F)
640 × 480 resolution 3.5" LCD touch display
Manual Focus for crisp image capture and analysis
25 Hz image refresh frequency rate
Long-distance laser light supplement for thermography targets
Up to 8 MP visual camera for dual IR + Visual simultaneous image capture
Real-time video image sharing with mobile devices
Software allows for thermal tuning of captured images (level, span, color palettes, area boxes, spots, etc)
Quickly capture, adjust, analyze, make recommendations and finalizing your inspections
The M11 has a removable 16GB MicroSD card providing storage for up to 60,000 images or 10 hours of MP4 video. A 200 character text annotation or up to 60 seconds of voice notes can be added to Each image and video providing further information of a chosen target.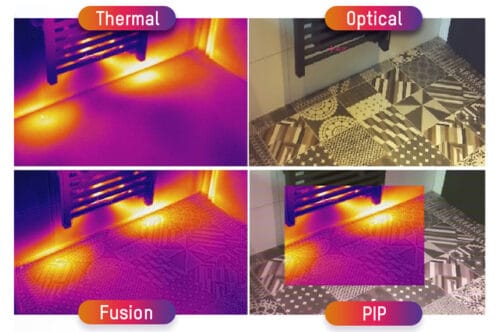 Multiple Image Presentation Modes allow for thorough review and inspection of target areas in both the visual and thermal spectrums
Fully complete and ready to use system includes 2 rechargeable lithium ion batteries, 2-bay charger, cables, and hard shell protective case to keep your M30 safe and ready to use
Comparable in many way to the FLIR E8xt and FLIR E54, both of which have higher price points.
3 year bumper to bumper warranty ensures your system is working as expected out of the box and inspection after inspection for many, many years!
Talk/text with us, we'll answer your questions and help you decide which infrared camera makes the most sense for you and your business!
207-985-7110
Outstanding, compact, long-battery life, excellent performance for residential inspectors and professionals in every industry looking to "see" much better in the thermal spectrum to compliment their skilled & proven visual experience.
Hands-on training is your key to achieving the most success with Infrared!  Zoom CRT classes now available. Click below to review the schedule and sign up. 
              Call 800-221-0163 or email training@monroeinfrared.com
Complete your infrared investment with professional thermography training and certification.  Both onsite and regionally offered classes scheduled regularly in most states including AZ, NV, WA, CA, TX, IL, WI, TN, FL, GA, NC, SC, VA, AL, NJ, PA, UT, NY, NH, OH, IN, KY and IL. classes scheduled less frequently yet can still be available in OR, ID, MT, WY, ND, SD, NE, OK, MO, MI, MS, ME, NH, VT, RI, MA, CT, DE, NM, HI and AK. Onsite Classes can be scheduled anywhere in the USA including Alaska and Hawaii with sufficient lead time.