Description
Hello Corteva Maintenance Professionals!
This ordering page was set up specifically for you based upon the response to Greg Rhames email recommendation that each plant purchase an M30 thermal imaging camera in preparation for coming onsite and/or dedicated IR training that Monroe Infrared will be providing.
15 of 17 plants have purchased with your company cc so we set this page up specifically for you to make it easy.
I look forward to speaking with each of you after Thanksgiving and filling you in on more details.
Please call or text 207.9985.7110 with any questions, one of my staff or I will get with you ASAP.
Happy Thanksgiving!
Christopher Casey
Powerful performance with a highly affordable price is offered in the NEW HIKMicro M30 Infrared Camera
110,592 thermal pixel resolution
Thermal sensitivity (NETD) of 0.035 degrees Celsius (35 mK)
Accuracy of +/- 2 degrees Celsius
Temperature measurement range from -20 to 550 degrees Celsius (-4 to 1022 Fahrenheit)
Manual Focus for crisp image capture and analysis
25 Hz image refresh frequency rate
3.5 inch LCD Touch Screen display
8 MP visual camera for dual IR + Visual simultaneous image capture
Real-time video image sharing with mobile devices
Software allows for thermal tuning of captured images (level, span, color palettes, area boxes, spots, etc)
Quickly capture, adjust, analyze, make recommendations and finalizing your inspections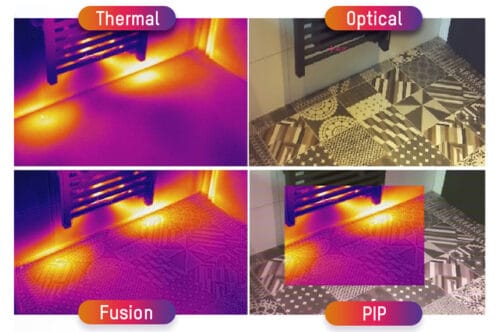 Multiple Image Presentation Modes allow for thorough review and inspection of target areas in both the visual and thermal spectrums
Fully complete and ready to use system includes 2 rechargeable lithium ion batteries, 2-bay charger, cables, and hard shell protective case to keep your M30 safe and ready to use
Comparable in many way to the FLIR E8xt and FLIR E54, both of which have higher price points.
3 year bumper to bumper warranty ensures your system is working as expected out of the box and inspection after inspection for many, many years!
Talk/text with us, we'll answer your questions and help you decide which infrared camera makes the most sense for you and your business!
207-985-7110
Outstanding, compact, long-battery life, excellent performance for residential inspectors and professionals in every industry looking to "see" much better in the thermal spectrum to compliment their skilled & proven visual experience.
              Call 800-221-0163 or email training@monroeinfrared.com
Complete your infrared investment with professional thermography training and certification.  Both onsite and regionally offered classes scheduled regularly in most states including AZ, NV, WA, CA, TX, IL, WI, TN, FL, GA, NC, SC, VA, AL, NJ, PA, UT, NY, NH, OH, IN, KY and IL. classes scheduled less frequently yet can still be available in OR, ID, MT, WY, ND, SD, NE, OK, MO, MI, MS, ME, NH, VT, RI, MA, CT, DE, NM, HI and AK. Onsite Classes can be scheduled anywhere in the USA including Alaska and Hawaii with sufficient lead time.