Annual or more frequently to ensure safe and continuous operations, IR Electrical Safety Inspections prevent injuries, increase uptime and reduce unscheduled outages and overall maintenance costs.
Two NFPA documents dramatically changed IR thermography over the last 25 years –  NFPA 70B and NFPA 70E.  NFPA 70B is the Recommended Practice for Electrical Equipment Maintenance.  NFPA 70E is The Industry Standard that addresses and defines Electrical Safety in the workplace.
IR Safety Inspections of electrical equipment identify excess heat on apparatus and detect electrical issues such as loose connections, faulty fuses, defective breakers, damaged switches, overloaded or imbalanced circuits and a myriad of other problematic electrical conditions.
Maintenance and Facilities personnel utilize Infrared Safety Inspections as part of a comprehensive Predictive, Preventive and Proactive Maintenance Program to minimize damage to electrical systems, address and correct potential safety and operation-stopping hazards, prevent downtime, saves money and protects employees.
Everyone agrees that no other organization in the United States has had a greater impact on infrared thermography and maintenance reliability over the last 25 years than the NFPA with the production of these two documents.
Concerning electrical maintenance:  NFPA 70B declares, "a well-administered Electrical Preventative Maintenance Safety Program will reduce accidents, save lives, and minimize costly break downs and unplanned shutdowns of production equipment." 70B further recommends "routine infrared safety inspections of energized electrical systems should be performed annually prior to shutdown. More frequent infrared inspections, for example, quarterly or semi-annually, should be performed where warranted by loss experience, installation of new electrical equipment, or changes in environmental, operational, or load conditions."
Although NFPA has no regulatory power, their recommendations were given legitimacy when adopted as a standard by the Occupational Health and Safety Administration (OSHA), the main US government agency responsible for the enforcement of Safety and Health legislation in American industry. OSHA has the power and the authority to levy substantial fines on businesses that do not conform to their authored or adopted safety standards.
Monroe Infrared has well over three decades of hands-on, practical field experience to ensure you receive a safe, accurate and thorough thermal electrical inspection. Our Professional Electrical Inspections provide VALUE to your business. Our inspectors are Level 2 or Level 3 Certified Thermographers, utilize the latest state of the art thermal cameras, function as Trainers as well as Inspectors, provide clear visual & infrared imagery plus promptly provide written analysis reporting for every inspection.
Keep employees, contractors and customers safe while maintaining the highest standards for reliability of cost containment.  Call for more information 800-221-0163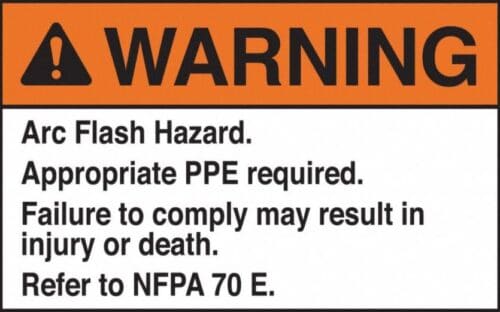 In less than a second, an Arc Flash is initiated from a phase-to-ground or a phase-to-phase fault resulting from an accidental contact with the electrical systems, the buildup of conductive dusts, corrosion, dropped tools, or improper work procedures.
Required by OSHA and NFPA 70E as a part of an Electrical Hazard Assessment, Arc Flash Hazard Assessments are a serious life safety issue and essential part of a safe and comprehensive electrical safety program.
The Standard for Electrical Safety in the Workplace, NFPA 70E states in Article 130.5 that an Arc-Flash Safety Study will be reviewed every five years or whenever there is a significant change in the electrical system; the five year interval is a straight-forward, mandatory requirement.
Monroe Infrared helps clients stay safe and meet the OSHA & NFPA 70E mandatory 5-year Arc Flash Hazard Assessment.
Have you completed or are you due for an Arc Flash Study?
We can assist you with this important safety evaluation of your electrical systems to keep you and your employees safe.
The demonstration at left shows the very real danger inherent to all electrical systems and the importance of regularly scheduled infrared electrical safety inspections and Arc Flash Hazard Assessments.
Flat Roof Moisture Survey Inspection                                   PV System Inspections                                                     Aerial IR & High Resolution RGB
Professional Infrared Electrical Safety Inspections available in Alabama, Arizona, Arkansas, California, Connecticut, Colorado, Delaware, Florida, Georgia, Idaho, Illinois, Indiana, Iowa, Kansas, Kentucky, Louisiana, Maine, Massachusetts, Maryland, Michigan, Minnesota, Mississippi, Missouri, Montana, Nebraska, New Hampshire, New Jersey, New Mexico, New York, Nevada, North Carolina, North Dakota, Ohio, Oklahoma, Oregon, Pennsylvania, Rhode Island, South Carolina, South Dakota, Tennessee, Texas, Utah, Vermont, Virginia, Washington, Wisconsin, Wyoming, New England, Northeast, Mid-Atlantic, Central States, Southeast, Southwest and West Coast