Introducing
FLIR Aerial Thermal Imaging Kits
Ready to fly aerial thermal imaging packages for professional operators
With FLIR's new Aerial Thermal Imaging Kits, drone-based thermal imaging for Fire Fighters, First Responders, Building and Utility Inspections is more accessible than ever before.
Each of these packages includes a DJI Inspire 1, Zenmuse XT thermal camera, Zenmuse X3 4K visible light camera, and a variety of accessories bundled together to give you the tools you need to get your airborne thermal imaging program off the ground immediately. By combining DJIs unrivaled expertise in flight stability, gimbal technology, and image transmission with the industry-leading thermal imaging technology of FLIR, the Zenmuse XT is the ultimate solution for reliable, rapid-deployable aerial thermal imaging.
Mission Ready
Mounted on either the Inspire 1 or the Matrice 100, the Zenmuse XT is ready to launch in seconds. Its seamless integration gives you access to important features like DJIs powerful Lightbridge video transmission system, automated Point of Interest, Course and Home Lock, Follow Me, and the DJI SDK.
Fast, efficient, yet stable airframes, the Inspire 1 will keep the Zenmuse XT aloft for 22 minutes. If used with the Matrice 100, the Zenmuse XT can stay in flight for up to 35 minutes*, ideal for large scale inspections and especially useful in search and rescue scenarios.
*Inspire 1: Flight times vary based on flight conditions, with a maximum 22 minute flight time being recorded when hovering with a TB48 battery using the Zenmuse XT gimbal camera.

Learn More About our Education and Equipment Partner Cliff Whitney and his company Atlanta Hobby
FLIR AERIAL BUILDING INSPECTION KITS

FLIR AERIAL UTILITY & FIRST RESPONDER KITS
FLIR+DJI=Powerful Airborne Solutions
DJI's Zenmuse gimbal technology has become the industry standard among demanding aerial cinematographers, and everything that makes DJIs aerial platforms world-class for cinematography also makes them the perfect platforms for aerial thermal imaging: they're stable, easy to fly, and fully-integrated with apps.
When you get right down to it, the main purpose of any drone is to position a sensor in three-dimensional space; when that sensor is a FLIR thermal imager, you expand the possibilities for drone operators and thermal inspectors alike. Using FLIR thermal imaging from small drones brings new capabilities to dozens of applications like search and rescue, the inspection of power lines, cell towers, bridges, substations, and buildings, firefighting, precision agriculture, and natural resource and wildlife protection.
Precision Full Screen Temperature Measurement

Simply tap any point in an on-screen image to view the temperature of that point or select an area to measure the average, highest and lowest temperatures as well as their location. The camera can also be calibrated to further increase temperature measurement precision by setting external parameters including background temperature, scene emissivity and more. If photos are captured in the TIFF format, the temperature of each pixel can be recorded for further processing and analysis. A temperature alert threshold can be set, automatically activating when that temperature is detected. This capability could simplify and accelerate search and rescue and inspection activities.
Everything You Need, Nothing You Don't
FLIR's Aerial Thermal Imaging Kits have optimized resolution and optics to make sure you'll have the right combination of situational awareness, magnification, and area coverage to suit your mission requirements. Plus, there are options for single-and dual-control so you can have a separate operator dedicated to running the camera while another focuses on flying the drone.
IMAGE ENHANCEMENT SOFTWARE
Infra-red imagery requires optimization to ensure maximum definition for capturing information. The Zenmuse XT features a suite of image enhancements designed by FLIR including Digital Detail Enhancement (DDE); Smart Scene Optimization (SSO), which enhances extremes in bi-modal scenes; Active Contrast Enhancement (ACE) that adjusts scene contrast relative to its temperature difference; and Information Based HEQ (IBHEQ) which compresses complex image data to create the best quality image.
DIGITAL DETAIL ENHANCEMENT
Before
After
ACTIVE CONTRAST ENHANCEMENT
Before
After
SMART SCENE OPTIMIZATION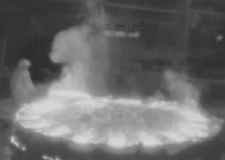 Before
After
INFORMATION BASED HEQ
Before
After
*Thermal image courtesy of FLIR
CAMERA
Thermal Imager
Uncooled VOx Microbolometer
FPA/Digital Video Display Formats
Analog Video Display Formats
720 × 480 (NTSC); 720 × 576 (PAL)
Pixel Pitch
17 um
Spectral Band
7.5 – 13.5 um
Full Frame Rates

640 × 512 30 Hz (NTSC) 25 Hz (PAL)
336 × 256 30 Hz (NTSC) 25 Hz (PAL)

Exportable Frame Rates
7.5 Hz NTSC; 8.3 Hz PAL
Sensitivity (NEdT)
<50 mK at f/1.0
Scene Range (High Gain)

640 × 512 -13° to 275°F (-25° to 135°C)
336 × 256 -13° to 212°F (-25° to 100°C)

Scene Range (Low Gain)
-40° to 1022°F (-40° to 550°C)
Spot Meter
Temperatures measured in central 4×4
File Storage
Micro SD Card
Photo Format
JPEG, TIFF
Video Format
MP4
LENS MODELS
Lens Models
6.8 mm
7.5 mm
9 mm
13 mm
19 mm
17 640×512
FoV
iFoV
/
f/1.4
90° x 69°
2.267 mr
f/1.4
69° x 56°
1.889 mr
f/1.25
45° x 37°
1.308 mr
f/1.25
32° x 26°
0.895 mr
17 336×256
FoV
iFoV
f/1.4
49.1° x 37.4°
2.519 mr
/
f/1.25
35° x 27°
1.889 mr
f/1.25
25° x 19°
1.308 mr
f/1.25
17° x 13°
0.895 mr
Min Focus Distance
2.3 cm
2.5 cm
3.2 cm
7.6 cm
15.3 cm
Hyperfocal Distance
1.2 m
1.2 m
2.1 m
4.4 m
9.5 m
Hyperfocal Depth of Field
0.6 m
0.6 m
1.1 m
2.2 m
4.8 m
ENVIRONMENTAL
| | |
| --- | --- |
| Operating Temperature Range | 14° to 104°F (-10° to 40 C ) |
| Non-Operating Temperature Range | -22° to 158°F (-30° to 70 C) |
| Temperature Shock | 5 C/min |
| Humidity | 5% to 95% |
GIMBAL
| | |
| --- | --- |
| Angular Vibration Range | ±0.03° |
| Mount | Detachable |
| Controllable Range | Tilt +35deg to -90deg; Pan ±320deg; Roll ±15° |
| Mechanical Range | Tilt +45deg to -135deg Pan ±320deg Roll ±45° |
| Max Controllable Speed | 120deg/s |
IMAGE PROCESSING & DISPLAY CONTROLS
NTSC/PAL (field switchable)
yes
Image Optimization
yes
Digital Detail Enhancement
yes
Polarity Control (black hot/white hot)
yes
Color & Monochrome Palettes (LUTs)
yes
Digital Zoom

640 × 512

2x, 4x, 8x

336 × 256

2x, 4x